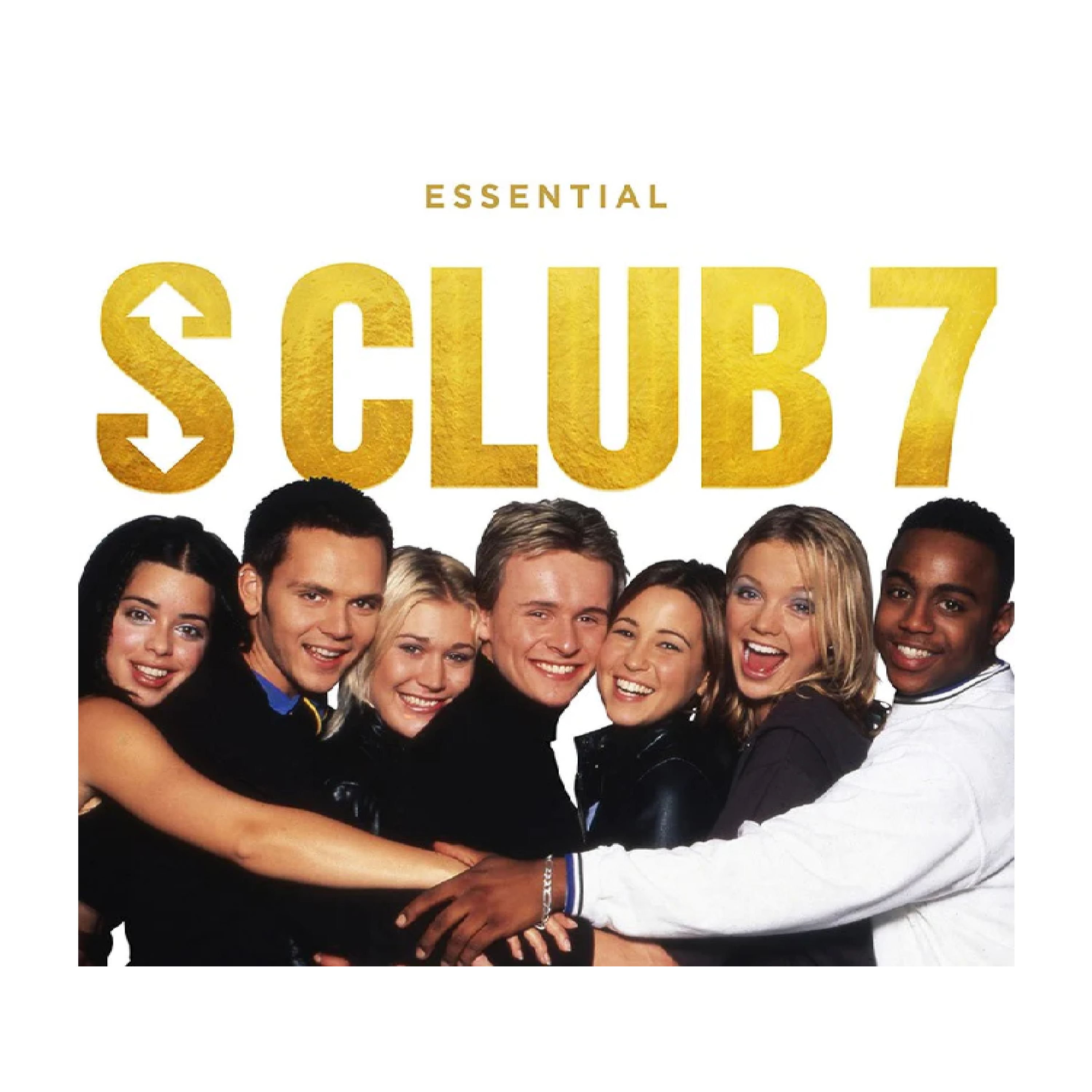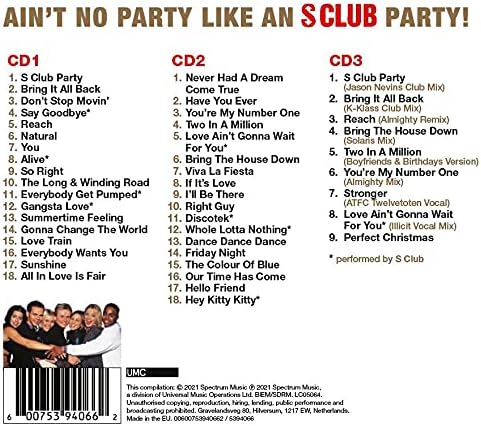 Essential S Club 7: CD
Release date: 9 July, 2021
THE ESSENTIAL S CLUB 7 CELEBRATES THE VERY BEST OF HIT SINGLES AND ALBUM TRACKS FROM THE WELL-LOVED GROUP AND FEATURES NO FEWER THAN 12 UK CHART TOP 5 HITS AND ALL FOUR OF THEIR NUMBER 1S – BRING IT ALL BACK, NEVER HAD A DREAM COME TRUE, DON'T STOP MOVIN' AND HAVE YOU EVER.
THIS SUPERB 3CD COLLECTION FEATURES TRACKS FROM ACROSS ALL FOUR S CLUB 7 ALBUMS AND EVERY HIT SINGLE RELEASED AS 'S CLUB' AS WELL AS A DISC OF ALL THE BIGGEST AND BEST REMIXES.
THERE AIN'T NO PARTY LIKE AN S CLUB PARTY!
Disc: 1
| | |
| --- | --- |
| 1 | S Club Party |
| 2 | Bring It All Back |
| 3 | Don't Stop Movin' |
| 4 | Say Goodbye - S Club |
| 5 | Reach |
| 6 | Natural |
| 7 | You |
| 8 | Alive - S Club |
| 9 | So Right |
| 10 | The Long & Winding Road |
| 11 | Everybody Get Pumped - S Club |
| 12 | Gangsta Love - S Club |
| 13 | Summertime Feeling |
| 14 | Gonna Change the World |
| 15 | Love Train |
| 16 | Everybody Wants You |
| 17 | Sunshine |
| 18 | All in Love Is Fair |
Disc: 2
| | |
| --- | --- |
| 1 | Never Had a Dream Come True |
| 2 | Have You Ever |
| 3 | You're My Number One |
| 4 | Two in a Million |
| 5 | Love Ain't Gonna Wait for You - S Club |
| 6 | Bring the House Down |
| 7 | Viva La Fiesta |
| 8 | If It's Love |
| 9 | I'll Be There |
| 10 | Right Guy |
| 11 | Discotek - S Club |
| 12 | Whole Lotta Nothing - S Club |
| 13 | Dance Dance Dance |
| 14 | Friday Night |
| 15 | The Colour of Blue |
| 16 | Our Time Has Come |
| 17 | Hello Friend |
| 18 | Hey Kitty Kitty - S Club |
Disc: 3
| | |
| --- | --- |
| 1 | S Club Party (Jason Nevins Club Mix) |
| 2 | Bring It All Back (K-Klass Club Mix) |
| 3 | Reach (Almighty Remix) |
| 4 | Bring the House Down (Solaris Mix) |
| 5 | Two in a Million (Boyfriends & Birthdays Version) |
| 6 | You're My Number One (Almighty Mix) |
| 7 | Stronger (ATFC Twelvetoten Vocal) |
| 8 | Love Ain't Gonna Wait for You (Illicit Vocal Mix) - S Club |
| 9 | Perfect Christmas |
Formats:

CD Album
Label:

UMR